As a new homeowner, I've been thinking a lot about how to control my cost of home ownership – and making the connection between maintenance and sustainability. After all, if we can make our possessions last longer by maintaining them in good working order, we will have to replace them less frequently – and that's better for the environment.
But why am I writing about landscape maintenance in January? We live in the northeast, which experienced a major snowstorm a week ago. As the storm was approaching, I called Marcus Stinchi of Stinchi Landscaping and asked what we could do to protect the new trees and plants that had been installed as part of the LEED® Platinum certified Sunset Green Home project.
Marcus recommended that we: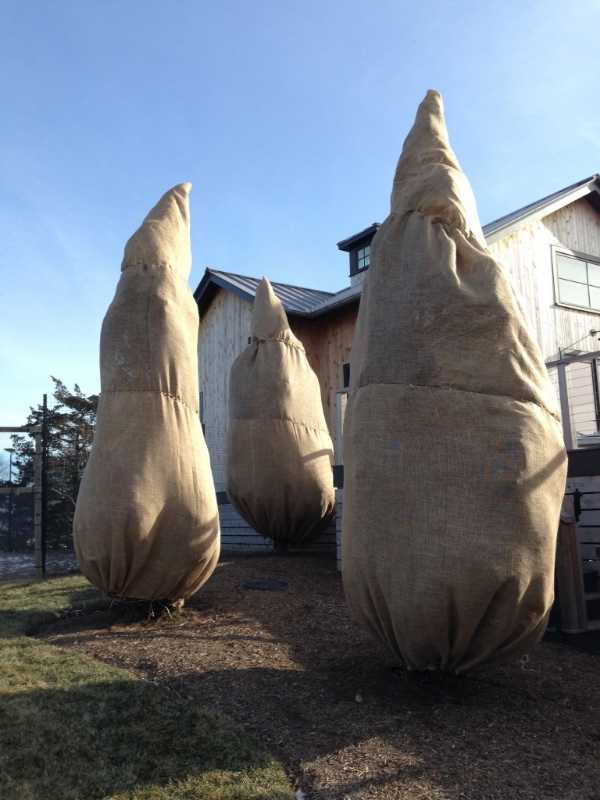 Install tall stakes up the driveway to mark the border between the driveway and the adjacent planting beds to prevent snow plows from accidentally damaging the young plants that are still low to the ground
Spray anti-dessicant on broadleaf evergreen trees when the temperature will be above freezing for at least 24 hours. Organic anti-dessicants provide a protective waxy coating that prevents moisture loss through the leaves and needles during dry, windy and cold winter conditions. According to Marcus, "Anti-desiccant protects the trees from the harsh winds and salt. Often the 'burning' you see on trees is from them drying out from harsh winds or salt damage from the ocean."
Wrap newly planted trees in burlap to protect them from the drying effect of high winds predicted to arrive with the storm. We may not need to provide this same level of protection once the trees have had a couple of years to establish themselves, but Sunset Green Home has a number of recently planted native evergreen trees. Protecting them with burlap is akin to purchasing an insurance policy for them.
The most sustainable strategy for native landscaping is to preserve what is already planted. Trees and plants need time to become established and can take many years to grow to mature size. So when harsh winter conditions threaten, it makes sense to give some thought to winter landscape maintenance.
Now that's what I call Practical Sustainability!