If your home is like mine, it has old bathroom fans that make a terrible racket when turned on. They may or may not clear the humid air from the room when you shower. And, in all likelihood, if they're more than a couple of years old, they use a lot of energy when you run them.
For this month's Practical Sustainability column, we swapped out all of the bathroom fans in our home – and challenge you to do the same.
Why do Bathroom Fans Matter Anyway?
Bathroom fans are important for maintaining healthy indoor air quality. Moisture is a home's enemy. Particularly in a bathroom, where the humidity level rises significantly when a shower is in use, excessive moisture can lead to cracking paint, damaged wall board, warped cabinet doors and deterioration of structural framing. Unchecked humidity provides conditions under which mold, mildew and other bacteria can grow and cause occupant health problems.
When we think about proper bathroom ventilation, we need to consider how a fan:
Protects the structural integrity of a home
Promotes healthy indoor air quality
Contributes to occupant comfort, and
Delivers energy efficiency
Bathroom fans are specified using several performance measures:
Amount of air they move in cubic feet per minute (cfm)
Noise level, expressed in sones (a measure of how loud a sound is perceived to be). The sone scale is linear: four sones is perceived as twice as loud as two sones
Energy use (generally expressed in watts, or watts/cfm when comparing models with different fan speeds)
Our Challenge
We live in a 100-year-old apartment building where our only access to the bathroom fans is from below the existing ceiling. When we purchased the apartment 13 years ago, we installed ducts to the outside and added fans to each bathroom. But the fans were extremely noisy and were energy hogs. While the fans did a good job of clearing the air during our showers, we had one bathroom in which we experienced some mildew growth on the ceiling. Our challenge was to replace all of the bathroom fans with quieter models that use less energy. And, most importantly, we had to complete the retrofit without undertaking a major renovation. After all, this is Practical Sustainability, and – if you have been following this series – we try to provide practical ideas that don't require major investment.
I contacted Broan, Delta and Panasonic, three top manufacturers of bathroom ventilation, and asked each company how we might address our needs. Each company sent several bathroom fans for me to try out – ranging from their top-of-the-line models to their entry-level models. Although they make fans of many sizes, each company also sent fans that could use practically the same "footprint" as the fans that we were replacing, just in case we encountered problems in our ceilings that would make it difficult to modify them for a larger fan.
John Hite, the owner of New Jersey based Hite Construction, has been a friend for over 20 years and, when I told him what I planned to do, he offered to send his crew to my apartment to oversee the work. John does the vast majority of his work in New York City, where there are no quirky conditions he hasn't yet encountered. While adding bathroom fans to existing apartments isn't always possible (some buildings, and occasionally the NYC Landmarks Commission, prohibit making penetrations through building facades), John says that most renovations will include bathroom fans where possible. The greatest concern he hears from homeowners and design professionals is noise minimization.
Our Results
I was very happy to have Isai and Mike from Hite Construction along to help me with the retrofit. We tried a fan from each of the three manufacturers in each of three bathrooms. Here are the results:
Bathroom #1: Broan Model 690 Bath Fan Upgrade Kit
In a 100-year-old building, where you're accessing everything from below the ceiling, you can't always choose an ideal placement during construction. For some reason, our bathroom fan had been installed up against a corner of a niche in the shower. And the fan was installed before the walls and ceiling were tiled with 12" x 12" marble. When we investigated replacing the bathroom fan, we discovered that we could not remove the old housing without removing the wall and ceiling tiles from around it – and that was a can of worms we were not willing to open up.
Thankfully, Broan NuTone had included the Model 690 Bath Fan Upgrade Kit with the fans they had sent us. The 13-year-old fans we were replacing were Broan model 688 fans, which are still manufactured today and are typically used by contractors for their low cost and ease of installation. But the fans are noisy at 4 sones, and only draw 50cfm.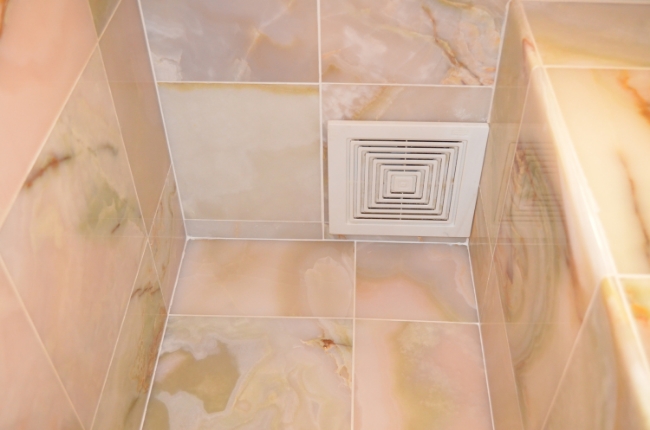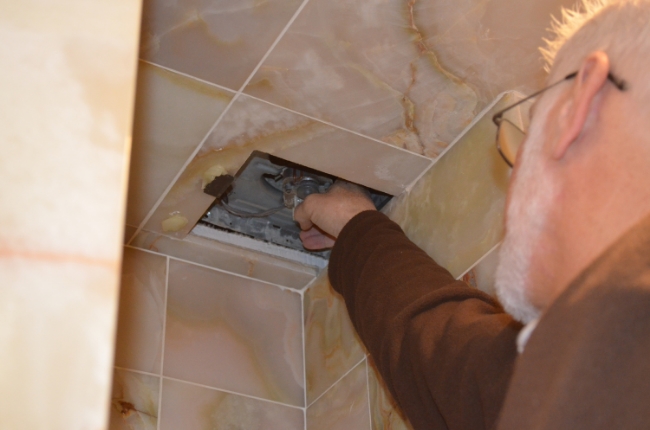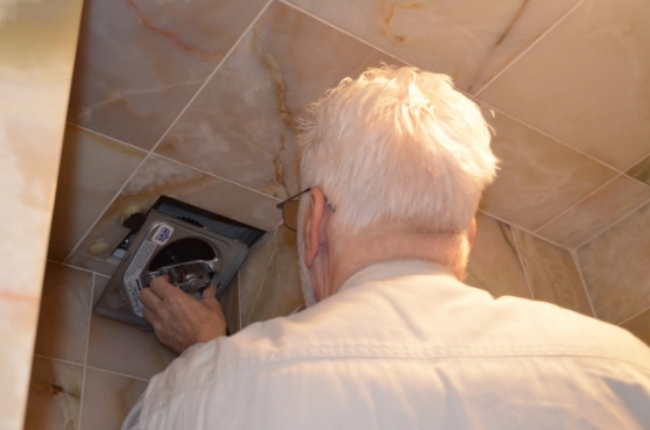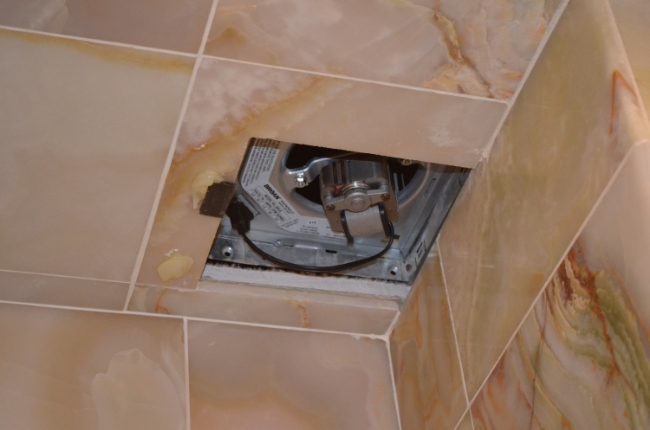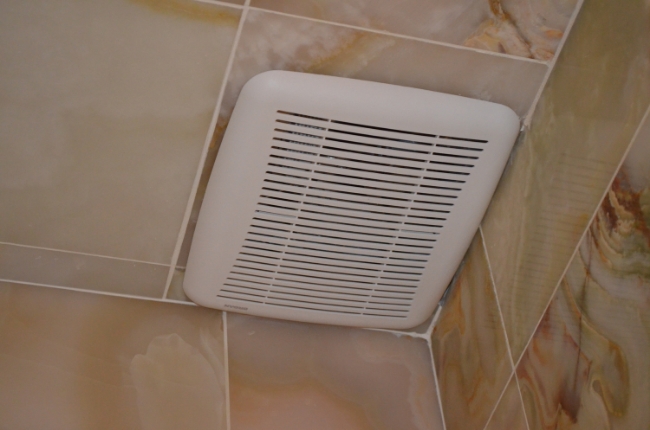 The upgrade only took five minutes to complete and the result for us was improved performance at 60cfm with a noise level of 3 sones. In truth, had we not had to keep the old fan housing, we would have used one of the much quieter and more energy efficient fans that Broan offers. But, we were fortunate that Broan makes an upgrade kit for our old fans, and we are much happier with the reduced noise level and increased air flow inside the shower.
Bathroom #2: Delta Breez Model SLM50
We removed the grille from the old fan in our sons' bathroom and discovered that the housing had been plastered into place. In addition, there were gaps around the fan that meant the fan was drawing not only the air from the bathroom, but also some air from within the ceiling plenum (the space between the structural ceiling and the dropped ceiling of the bathroom). Our hypothesis was that this bathroom had mildew on the ceiling because the fan wasn't solely removing air from the room itself.
We had just painted the ceiling in this bathroom and were trying to replace the fan without damaging the ceiling in any way. Isai carefully chipped away the plaster and then used sheet metal scissors to cut away the old housing, which had been installed between two metal studs in the ceiling and attached with screws that we couldn't access from below the ceiling (the old fan had been installed before the gypsum ceiling had been put in place).
With metal studs less than 8 inches apart on two sides of the ceiling, we determined that we would have to use a fan whose housing had the same footprint as the old fan we had just removed. Delta had sent its BreezSlim Model SLM50, an ENERGY STAR qualified fan with quiet operation at 1.0 sone, and an identical housing size to the one we had just removed.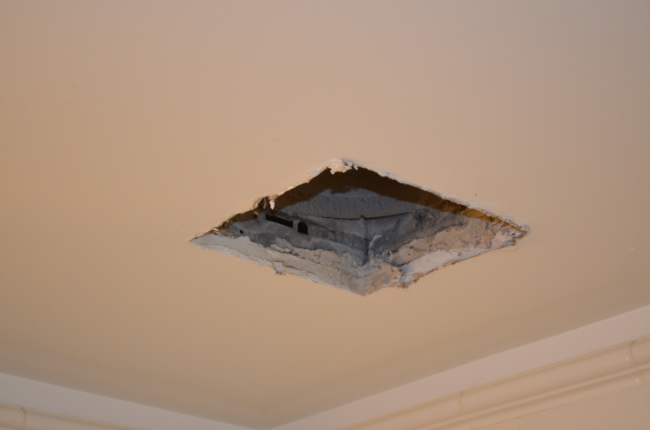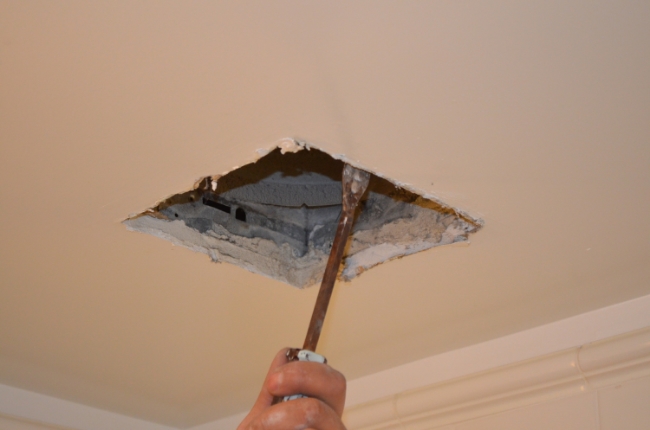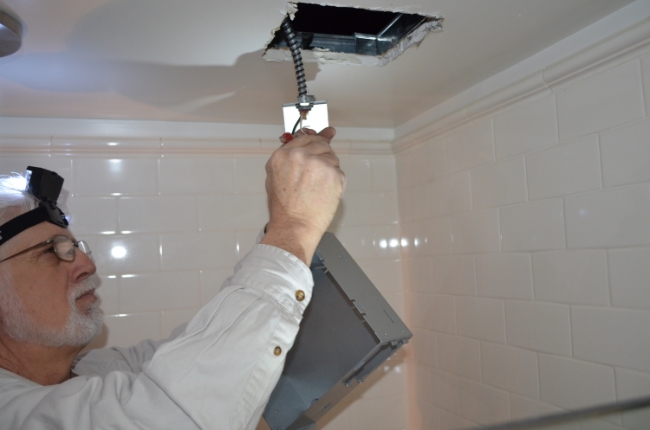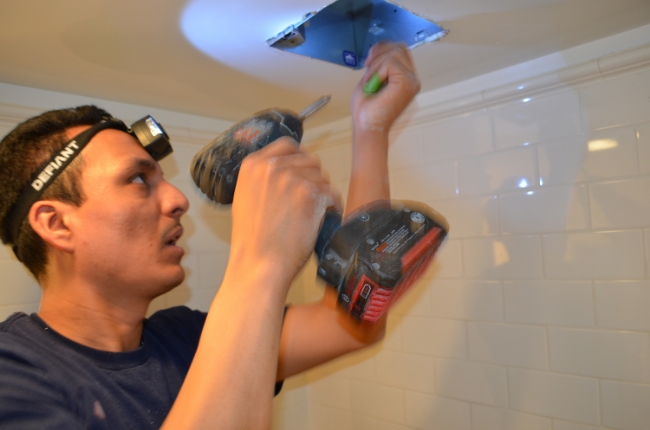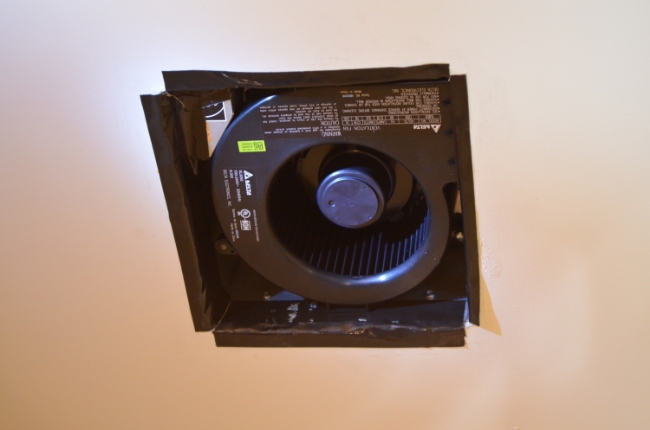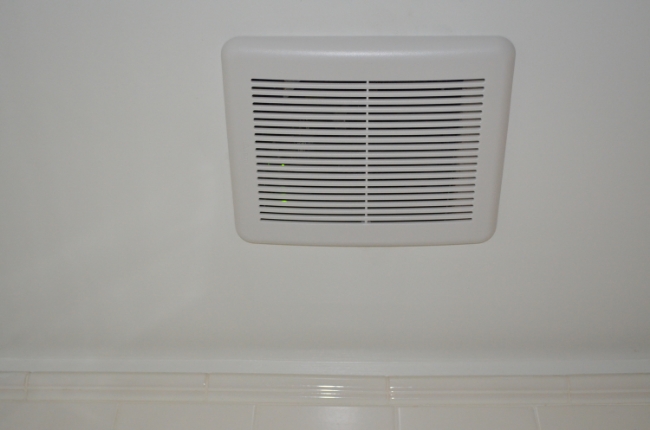 As per the instructions for a retrofit installation, we attached the housing itself to the metal studs up inside the ceiling (we used sheet metal screws). The rest of the installation was easy. Once the fan's blower was in place, we used duct tape to seal the edges around the housing so that the fan would only draw air from within the bathroom (as opposed to pulling air from the plenum space as the old fan had been doing).
The result: a quiet, energy efficient bath fan (rated at 8 watts) drawing air only from inside the bathroom.
Bathroom #3: Panasonic EcoVent Model FV-07VBA1
After having watched Isai and Mike swap out the fan in my sons' bath, it was time for me to try a retrofit on my own. I removed the fan from my daughter's bathroom and found the same metal stud setup that was in place in my sons' bathroom. Once again, I'd have to use a fan whose housing would fit between the two metal studs.
Panasonic had sent its EcoVent fan, whose housing has been designed to make retrofitting from below the ceiling extremely easy. Moreover, the housing has an innovative flange around its perimeter that creates an air barrier and ensures that air is only drawn from within the bathroom and not from up in the ceiling plenum (we would not need to add duct tape to seal around the edges).
I had to use a drywall saw to enlarge the opening slightly (the EcoVent is approximately half an inch larger than the old fans I had removed), after which the housing slipped easily into place. Attaching the vent and junction box was straightforward (it is very important that you turn the electricity off at the circuit breaker before attempting an installation of a bathroom fan or any electrical appliance or equipment!). In less than an hour, I had installed the bathroom fan, without causing any damage to the ceiling (again, I was hoping not to have to repaint after completing the retrofit).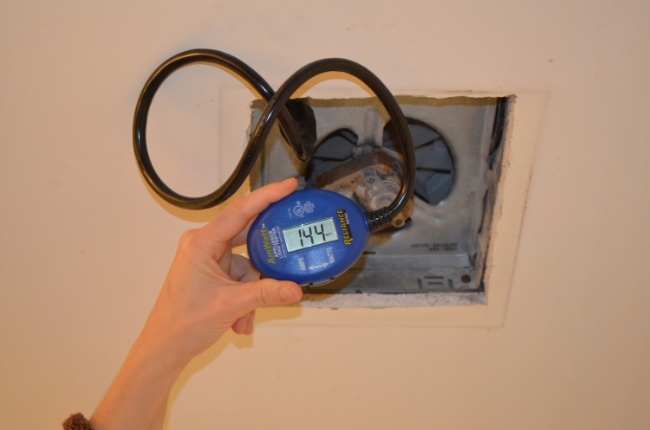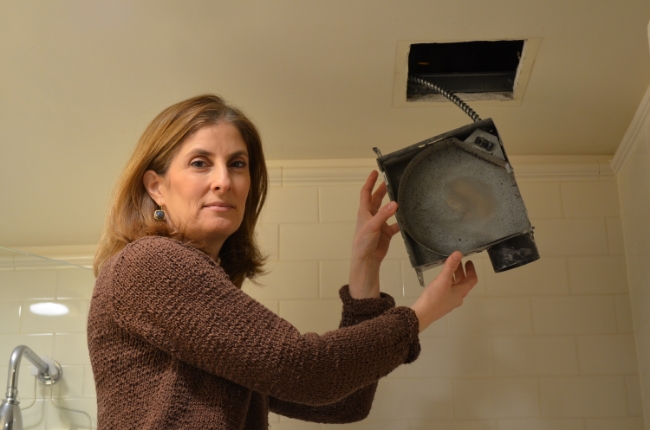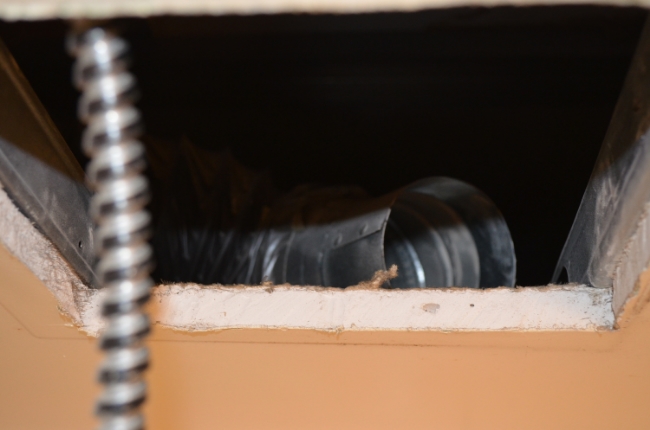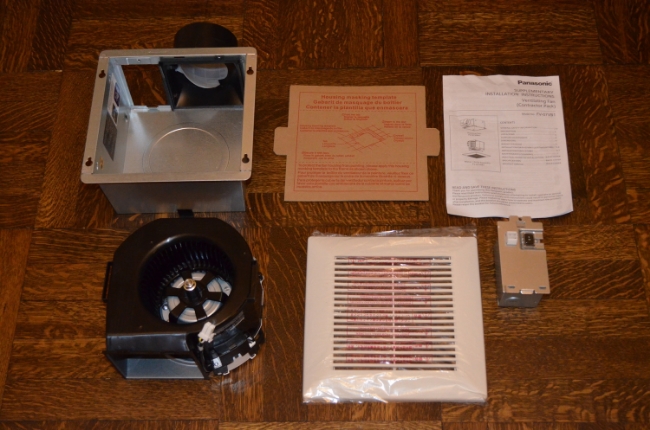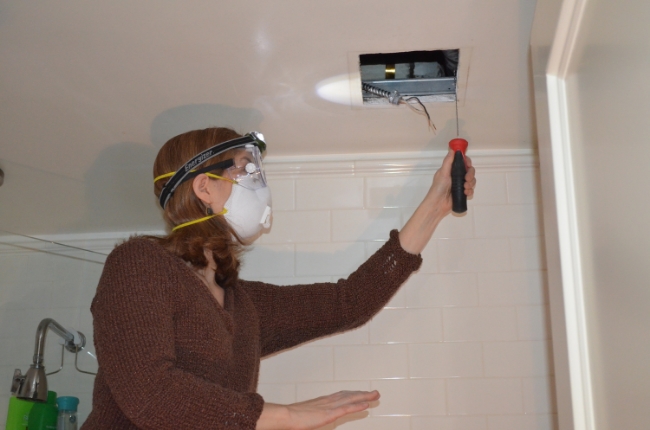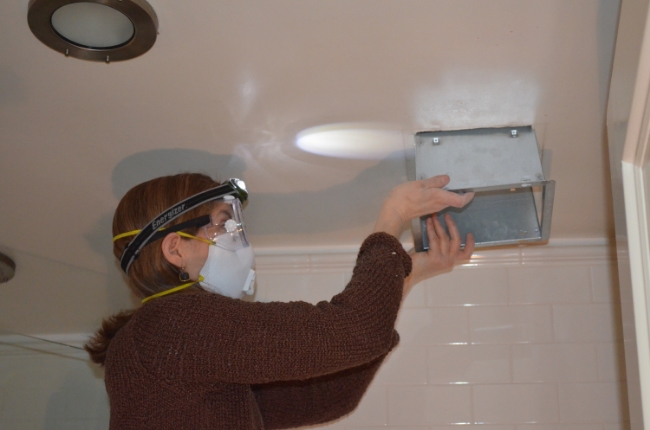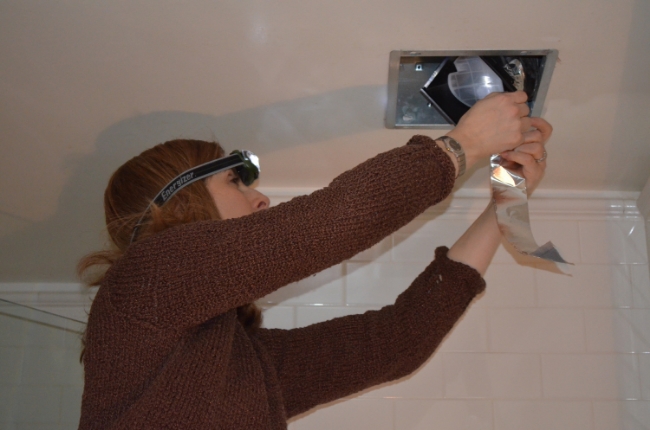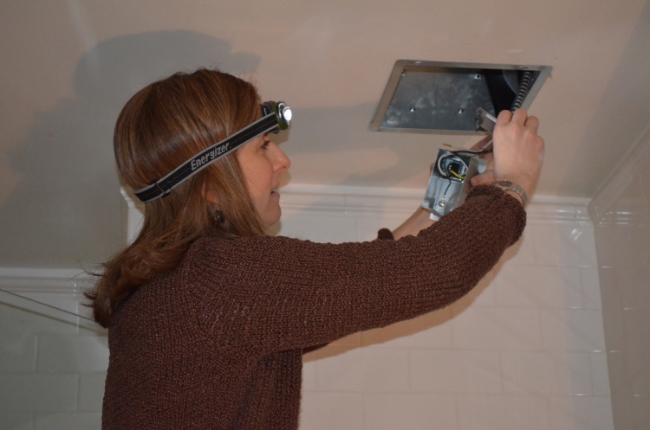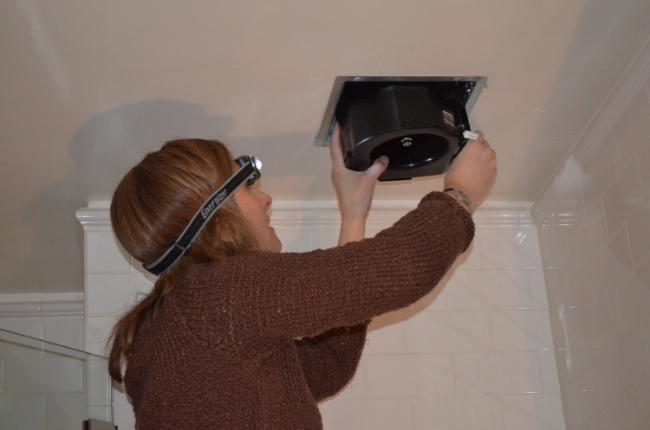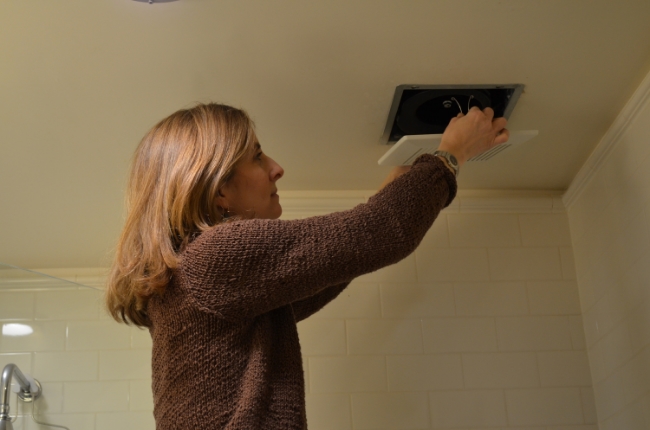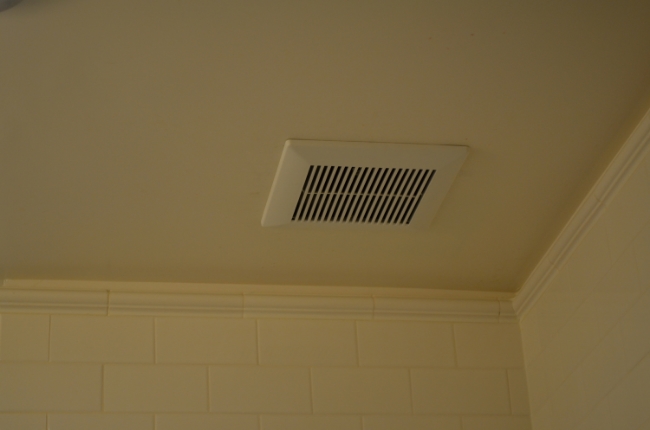 Because of the size of my daughter's bathroom, I set the fan at its standard 70cfm speed, but it comes with a booster switch that enables it to operate at 90cfm if needed. This is particularly useful for homes that must meet stringent ventilation standards required by ENERGY STAR, LEED and other green building programs.
I had used a watt meter to check the electric consumption of the old fan in my daughter's bathroom and learned that it drew a whopping 144 watts of electricity. The new Panasonic fan is rated at 20 watts, and has quiet operation of 1.0 sone.
Lessons Learned
If I can do it, so can you! Our ceilings were problematic, but we replaced all of the fans without damaging the ceilings in any way. Each of the three manufacturers had a product that addressed our bathrooms' unique challenges. The price tags on the models we used were well below $100 per unit. And given our usage patterns, with the energy savings of the two ENERGY STAR models that we installed, we predict that the fans would pay for themselves in a short two to three years. We can't emphasize enough the intangible benefit of having quiet fans; while we can't assign economic value to it, occupant comfort is still an important consideration. We're confident that the quality of the fans coupled with our airtight installation will result in improved indoor air quality as well.
But That's a Challenging Retrofit…What Would We Have Done If We Were Unconstrained?
As I mentioned, each of the manufacturers sent a retrofit solution that they felt we could use if we encountered problems in our ceilings (which we did!). But they also sent multiple models that could be used for new construction or for less constrained retrofits (for example, in a home where the bath fan housings could be accessed from the attic).
So what is the state-of-the-art in bathroom ventilation? Today's best bathroom fans are very quiet (<0.3 sones), are extremely energy efficient, and include advanced technologies for sensing humidity or occupancy. Here are some of the models that we might have used if conditions permitted (in alphabetical order by manufacturer):
Broan Ultra Green™ multi-speed fans. With virtually silent operation (<0.3 sones), Broan's Ultra series fans come packed with features. Users can choose from amongst several fan speeds that can be adjusted according to room size and humidity conditions. With optional occupancy and humidity sensors, the fans may be set to operate continuously at low levels and then automatically adjust their speed when conditions call for more power. The fans come with a mounting frame that can be used for retrofit installation in 2x8 framed ceilings. And best of all, these feature-packed fans deliver using <8 watts of electricity.
Delta BreezSignature series. Delta BreezSignature fans also deliver practically silent (<0.3 sones) operation, variable speed controls and optional humidity or motion sensors – all at a very low energy consumption that tops out around 8-10 watts. Because they're so quiet, the fans include LED lights to let users know that the fans are operating.
Panasonic WhisperGreen Select fans. Panasonic has designed its WhisperGreen Select series with "Plug 'N Play" modules that allow a single fan to be customized in up to three ways – with a night light, a multi-speed sensor that allows for continuous operation at a lower speed with boosted speed when needed, and either a humidity or a motion sensor. At 110cfm, the fans use less than 10 watts of electricity.
It's probably worth noting that bathroom fans now come with "bells and whistles" that don't impact air quality or energy efficiency - but that some users may want to consider nonetheless. Most of the fans that I mentioned can be purchased with LED lighting modules for bathrooms where the fan needs to double as the room's light source. And for music fans, Broan now offers its Sensonic fan, complete with high-fidelity speakers that can pair with most Bluetooth enabled devices.
So consider swapping out your old, noisy, inefficient bathroom fans. With great fans like these on the market, you can't go wrong selecting from any of the three major brands!
Now that's what I call Practical Sustainability!